Price Increases Pace – July 24
ETH/USD price increases the pace of rising, having been able to breach the point at $2,000. The crypto-financial book records a positive percentage rate of about 1.79 to trade around the line of $2,164.
Price Increases Pace ETH Market
Key Levels:
Resistance levels: $2,500, $3,000, $3,500
Support levels: $2,000, $1,750, $1,500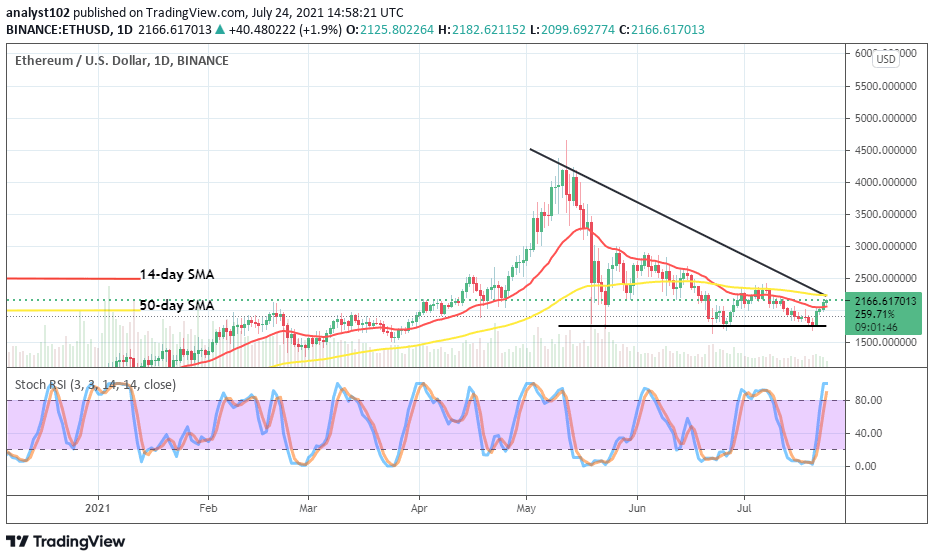 ETH/USD – Daily Chart
On the ETH/USD daily chart, the crypto-economic price increases the pace of rising after slightly breaking past the smaller SMA to the upside during yesterday's trading session. The critical support baseline drew at the level of $1,750. The 14-day SMA indicator is beneath the 50-day SMA indicator as the bearish trend-line drawn downward to touch the bigger SMA on the buy signal side to denote a current area of the resistant trading zone of the market. The Stochastic Oscillators are in the overbought region, attempting to close the lines. That could lead to less-active price movements, bringing about differential smaller-ups and downs in between the points of $2,500 and $2,000.
Will there be continuity of upswing in the ETH/USD market as price increases pace?
There can be a continuity of upswings in the market operation between Ethereum and the US Dollar if the price increases the pace of rising to forcefully break out the resistance trading zone around the bigger SMA's trend-line. However, that sentiment isn't technically achievable in the near session as the crypto's capacity appears trading now in an overbought region of transactions. Therefore, bulls should be mindful of re-launching new buy orders at that level to avoid getting whipsawed in no time.
On the downside analysis, the stage seems getting set that the ETH/USD market bears may soon regain price control as there has been low exertion of power by bulls at a higher trading zone. The reading of the Stochastic Oscillators in the overbought region attempting to close the lines suggests that there will mostly be consolidation movements to allow the market to take a respite. As a result of that trading scenario playing out, traders may stay away for a while.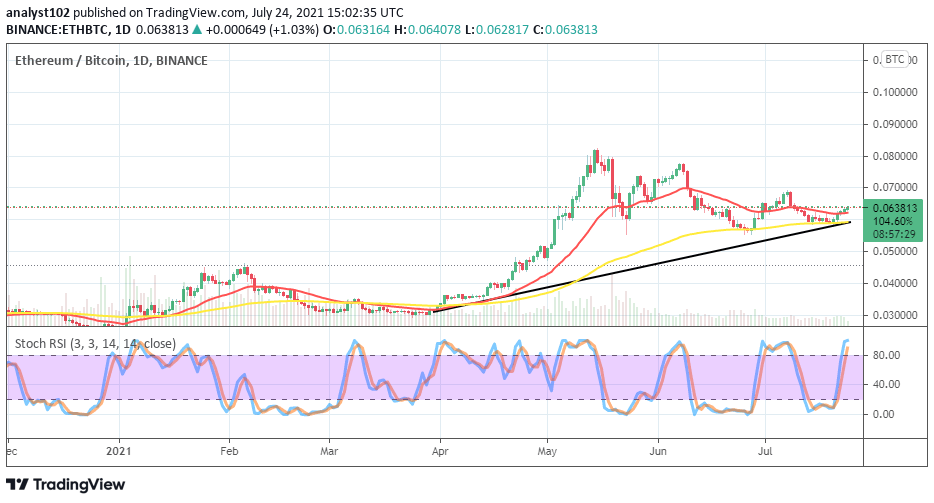 ETH/BTC Price Analysis
The ETH/USD price analysis trading chart based on the comparison, the trending weight of the base crypto increases the pace of rising as paired with the flagship crypto. The downward force that exists between the two cryptos also appears to be a kind of correction. The 14-day SMA trend-line is over the 50-day SMA trend-line as the bullish trend-line drawn in a supportive manner around the bigger SMA. The Stochastic Oscillators are in the overbought region, attempting to close the lines in it. That signifies that Ethereum may soon witness weakness in the present trending capacity it recently formed pairing with Bitcoin.
Looking to buy or trade Ethereum (ETH) now? Invest at eToro!
75% of retail investor accounts lose money when trading CFDs with this provider