HEX price was up 20% this week. It is one of the largest DeFi products on Ethereum and is ranked in the top 10 by one of crypto's most respected data houses, yet it remains an unfamiliar name to many in crypto.
It is arguably also one of the most controversial coins in the cryptosphere, whose founder and chief evangelist is loved and hated in equal measure.
HEX brands itself as crypto's first and only certificate of deposit (CoD), although that's a claim that these days is very hard to justify, given the proliferation of interest-bearing products on Ethereum, but let's look beyond semantics and marketing.
The man behind HEX is Richard Heart (real name Richard J. Scheuler) and his baby has been slammed as a scam since inception in December 2019, but to be fair that could be said for crypto per se.
The fact that Heart made a lot of money in marketing hasn't helped his online persona, but given the three audits that have been conducted on the network's tech it's hard to see what justifies the scam accusations levelled against HEX.
HEX price strengthening while other assets falter
And as far as the HEX price goes, there's much to admire, as you can see in the chart below. The HEX price is $0.0733 at the time of writing.
Other stats are equally impressive. Market cap is up 24.8% to $43 billion; weekly trading volume is $186 million, up 24% and transparent volume up 21%.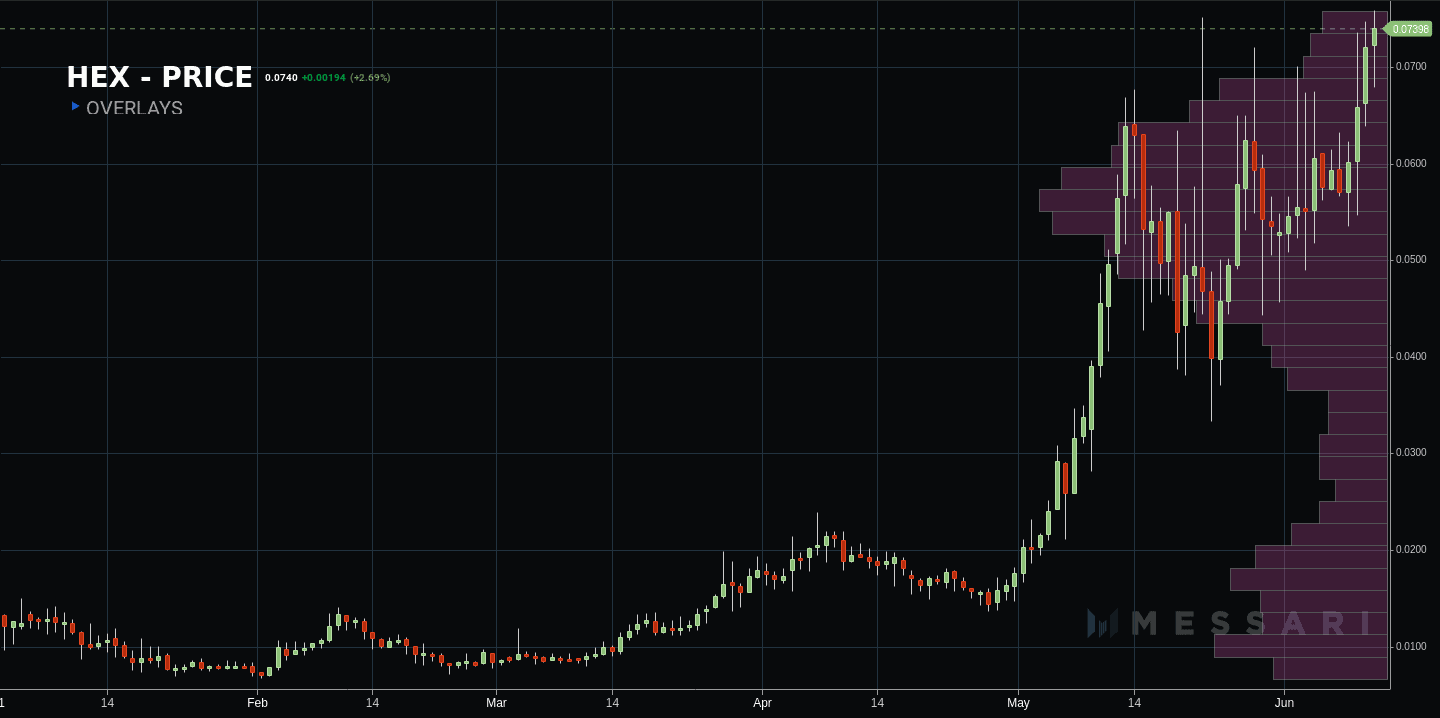 But perhaps those scam claims are the reason why you may not have heard of HEX. To be frank, if you can't get into the top 100 on coinmarketcap, it can be a hard slog getting wider recognition let alone generating on-chain activity for a project.
It is because of its supposedly dubious tokenomics that the coin does not appear anywhere near the rarified ranks of the large cap cryptos. In fact coinmarketcap ranks it at 201 and includes a handy warning note explaining why it has difficulty ranking the coin. "HEX is not eligible for normal ranking," says the site page. Clicking 'learn more' takes the user to the CMC methodology page but nothing specific regarding why HEX is problematic as far as ranking goes, or how its rank is determined.
Heart and his growing band of vociferous supporters will tell you that this is down to one of the crypto's open secrets, which is, that CMC is more interested in the listing fees than it is in the worth of a particular project. 
HEX's supporters counter this rating by saying that the developers of HEX would rather not pay the extortionate fees that CMC demands for the listing of all manner of coins, which at the last count numbered more than 8,000, most of which are rubbish, dead or dying.
Nomics ranks HEX 8th
Widely respected crypto data analytics site Nomics currently ranks HEX at 8 but CMC places it at 201, as we have seen.
Let's compare some other data points. Nomics calculates HEX market cap at $39.2 billion on 11 June 2021 while CMC calculates it at less than a third of that at $11.8 billion.
In terms of the transparency of the exchanges HEX trades on, they have the highest possible Nomics rating of A, which denotes full transparency.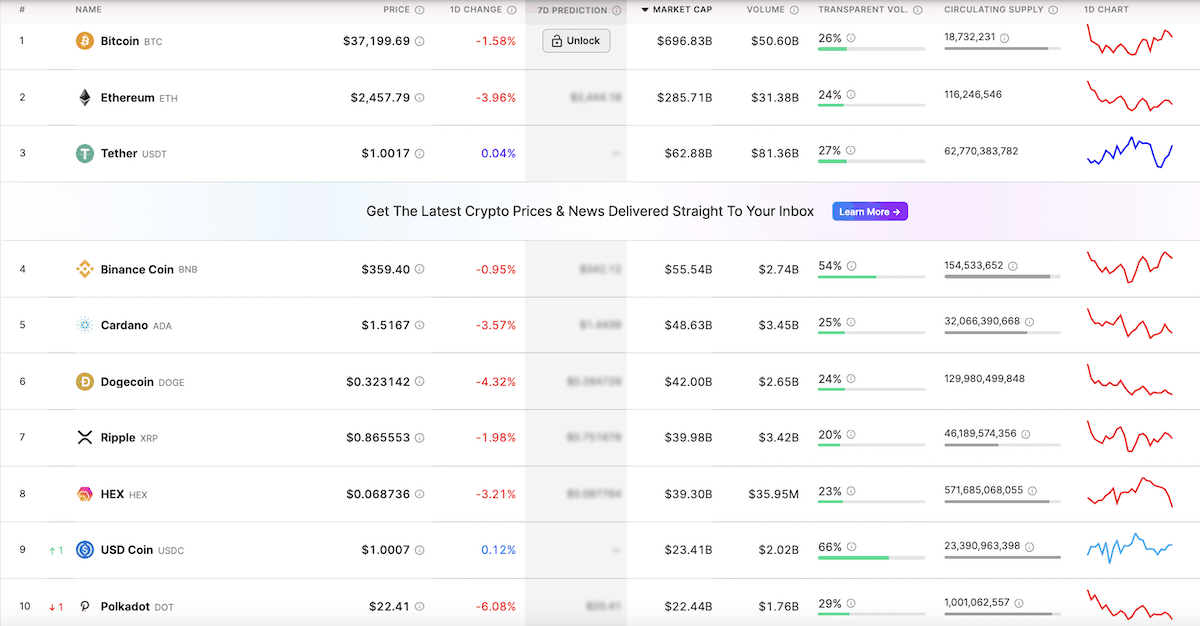 How does HEX work?
You can stake HEX for as long as 5555 days and a minimum of 1-day. As you would expect, the longer you stake the better the rewards. 
Stakers, when they end their stake, receive a share of the interest paid on the Stakers Pool. The interest rate is 3.69%.
Exactly how much you get paid from the pool depends on the percentage of HEX that is being staked overall. So, for instance, if only 1% of supply is being staked then the average payout to stakers will be 369%. If the proportion of staked tokens doubles to 2% then the interest halves to become 184.5%.
As mentioned earlier, HEX markets itself as the first blockchain based certificate of deposit but it doesn't really bear much resemblance to that low-risk credit instrument, which is basically the US version of a bank notice savings account, where the depositor commits to leave their cash with the bank for a set period.
Tempted by HEX 40% annual percentage yield?
But is is also different in a better way from CoDs,  in that the interest rate paid out is a lot higher, with an annual percentage yield (APY) of 40% compared to a certificate of deposit's 2% or so.
When you stake HEX it gets burnt and you buy T-shares at their current dollar price – the T stands for trillion. It is these that have the claim on the stake pool and, importantly, also attract a quadratically increasing bonus up to 10% of the input amount.
If you stake for longer periods than one year then the bonus rises to a maximum (depending on period staked) of 3x the base bonus. In addition, larger stake amounts attract a multiplier of 1.1x.
To release your funds from staking you run the End Stake function. If you end the stake early there is a penalty fee of 1% of the total return, which goes into the pool and is shared among stakers. 
The annual inflation rate of the HEX token is 3.69% and this is the source of the interest payments amassed in the pool. In this respect, then, HEX's constant inflation rate differs from those of networks such as Bitcoin, where the inflation rate – block reward that mints new coins – declines over time.
HEX return on investment outperforms
The return on investment for HEX compares very favourably to a selection of top coins. Year to date HEX is up 443% and over the past week when everything else has been in the red, HEX was up 19%.
| Asset | Symbol | Price ($) | 7 day % chg | 30 day % chg | YTD % change |
| --- | --- | --- | --- | --- | --- |
| Bitcoin | BTC | 37155.456 | 1.9 | -24.2 | 27.7 |
| Ethereum | ETH | 2456.493 | -8.1 | -35.3 | 238.6 |
| Cardano | ADA | 1.512 | -10.4 | -2.3 | 772.5 |
| Dogecoin | DOGE | 0.323 | -13.7 | -16.9 | 5610.3 |
| Hex | HEX | 0.069 | 19.2 | 28.0 | 443.1 |
Table data as at Friday 11 June 2021. Source Messari
Richard Heart's latest project is to help fix Ethereum fees. To achieve this end his PulseChain's unique selling point will be in forking the entire Ethereum blockchain including all of the ERC-20 tokens built on top of it. If you 'sacrifice' any ERC-20 token for every $1 value at snapshot you will receive 10,000:1 of Pulse coin, although the exact details are somewhat in flux at this point. We will be discussing the merits of PulseChain in a future feature.
Next week we will be talking to a HEX millionaire and another investor who joined the party when there were only 8 people in the Telegram group. There are now 21,900 users on the official channel today, not to mention a proliferation of unofficial groups of variable quality and honesty – but that's the Wild West of crypto Telegram for you.
Indeed, Heart actually set up a Telegram group especially so that all the HEX FUD spreaders could have a home of their own.
In out third feature story we will be looking at PulseChain.
Do your DD on HEX
If you are thinking of taking a look at HEX please do your own due diligence.
We recommend this blog post: HEX Staking Deep Dive
…and this long read: HEX Contract in Layman's Terms
Buy Ethereum to get in on HEX
You will need to own some Ethereum to exchange it it for HEX on Uniswap. Head over to eToro where you can buy ETH and then download the eToro wallet. You can then do a transfer from within the brokerage account to the wallet in order to create the address on the wallet side in the first instance. The HEX price is on the move so you might want to get in under $0.10.
If you don't already have the Metamask Chrome extension, then you'll need to get that done to interact with both Uniswap and the HEX website so you can do the staking.
Looking to buy or trade Ethereum (BTC) now? Invest at eToro!
Capital at risk