Dogecoin price is hurting right now. That comes despite the meme-based coin causing quite a stir in the crypto market this year, although it slumped to $0.22 during the May market meltdown.
The May price decline disappointed many investors – especially those who bought near the top – given that the cryptocurrency had increased by over 15,000% percent between January 2021 and May 8 when DOGE reached an all-time high of $0.74.
Dogecoin started June on a positive note. On June 2, the coin gained to around $0.40 following various comments by dogecoin's major promoter, Elon Musk.
At the time of writing, Dogecoin had slumped a little, and it was trading at 0.328.
Dogecoin Price: bears on prowl, time to accumulate?
Dogecoin seems to be slowing down and retreating from the progress it has made in June.  The coin seems to be registering a downward price movement. At the beginning of June, dogecoin seemed to be going back to a bullish state, but it has failed to go past its resistance level for it to progress with an upward trend.
On May 19, Dogecoin experienced its sharpest slump this year that saw the coin trading at $0.22 from around $0.52. On June 2, dogecoin reported its highest price since the market crash when it settled for $0.448. Dogecoin's gain on that day was attributed to news that it was listed on Coinbase Pro. The surge signalled the beginning of a bull run.
The Lex Fridman podcast also fuelled dogecoin's bullish rally in the first days of June. The founder of Ethereum, Vitalik Buterin, was a guest on the podcast where he said that he was open to collaboration between ethereum and dogecoin.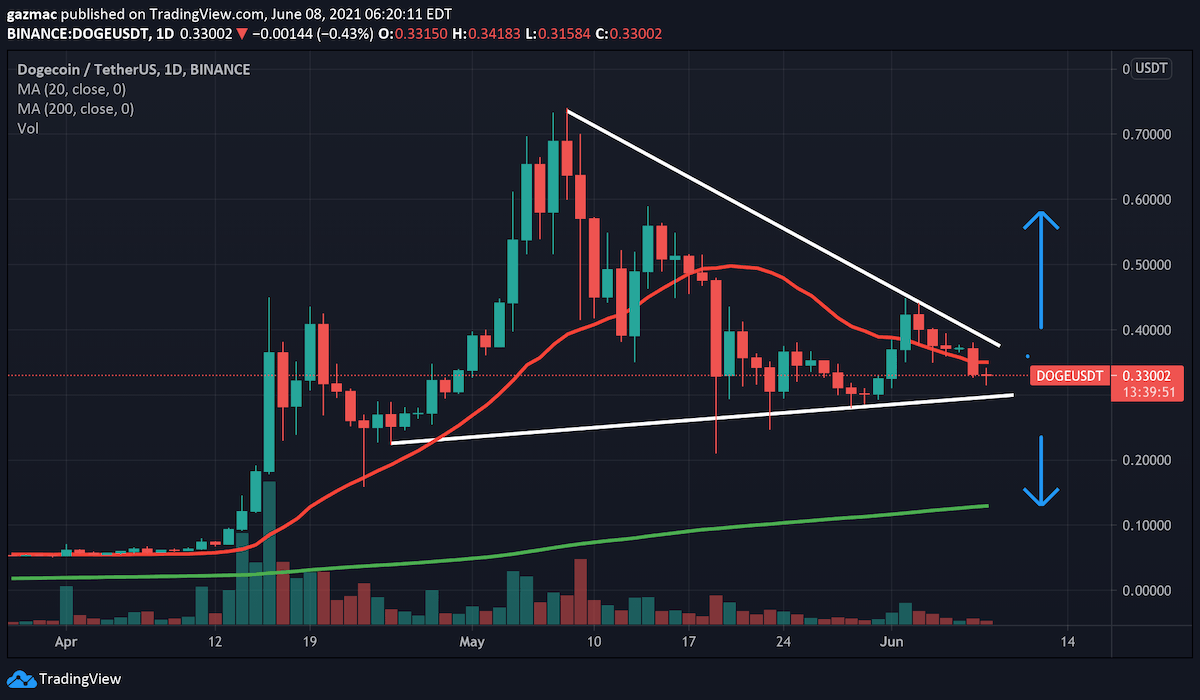 The chart above shows that dogecoin price action has been registering lows, but the trading range has been tightening significantly. This could suggest that the coin may soon stabilise and return to an upward surge. If dogecoin closes above the $0.40 level by week's end then it could once more trigger a rally. However, dogecoin needs to sustain its price above the resistance level of $0.45 to show the momentum of moving towards its ATH.
DOGE/USD: descending triangle is bearish at this point
However, the descending triangle pattern is a bearish indicator at this point but bulls mat lean towards interpreting it as a falling wedge inn a market trending higher, but that is getting harder to justify as the downward pressure creates a larger and larger flag.
Either way, the market is likely going to experience further sharp moves to either the up or downside, with volatility heightened by collapsing trading volumes.
Those looking to buy the dips will want to tread carefully by cost averaging into the market – in other words treating current market conditions as an accumulation/consolidation phase.
One of the factors that may influence dogecoin price recovery is support from the broader crypto market. At the moment, this seems to be hardtop achieve following multiple attacks on bitcoin and cryptocurrencies.
The most recent attack was by the immediate former president of the United States, Donald Trump, who said that "bitcoin just looks like a scam." Trump aired his thoughts yesterday during an interview with Fox TV. In the past 24 hours, bitcoin has slumped by 8% to around $33,000 at the time of writing.
TRUMP: Bitcoin, it just seems like a scam. I don't like it. I want the dollar to be the currency of the world. pic.twitter.com/CXjALsJmXx

— August Takala (@AugustTakala) June 7, 2021
Dogecoin's price gain is imminent. Elon Musk ditched bitcoin for dogecoin, and his frequent tweets have been promoting an upward price movement. Besides, dogecoin has gained adoption as a means of payment for multiple companies, making the coin a great buy.
Where to buy dogecoin
With dogecoin's future looking bright, it may be an ideal opportunity for retail traders to purchase the token as they wait for the bull rally that will commence as soon as the token reaches $0.40. To purchase the token, you need to choose an exchange that supports dogecoin.
eToro
eToro is a reputable exchange that supports dogecoin. The platform offers competitive trading fees that guarantee you do not part with most of your earnings. The exchange is also advisable if you are a new trader because it has a copy-trading feature that will enable you to copy what experienced traders are doing to maximize profits.
To start buying and selling DOGE on eToro, you need to sign up for an account, deposit funds to the account, and place an order. The whole process of buying dogecoin in eToro is easy and fast.
Looking to buy or trade Dogecoin (DOGE) now? Invest at eToro!
75% of retail investor accounts lose money when trading CFDs with this provider